Looking to get some quick cash for cars in Dallas? Look no further! DFW Cash 4 Junk Cars Buyers and Removal offers a seamless and profitable way to dispose of your old, non-functional, or unwanted vehicles. With a stellar reputation as the premier junk car buyers in Dallas, we guarantee a process as smooth as the drive on a newly paved road.
Discover the Best Cash for Junk Cars in Dallas
When it comes to selling your junk car, you deserve a deal that puts a smile on your face and cash in your hand. DFW Cash 4 Junk Cars Buyers and Removal stands out as a beacon of excellence in the cash for junk cars Dallas market. We are not just a business; we are a team of professionals dedicated to offering you an unrivaled car selling experience.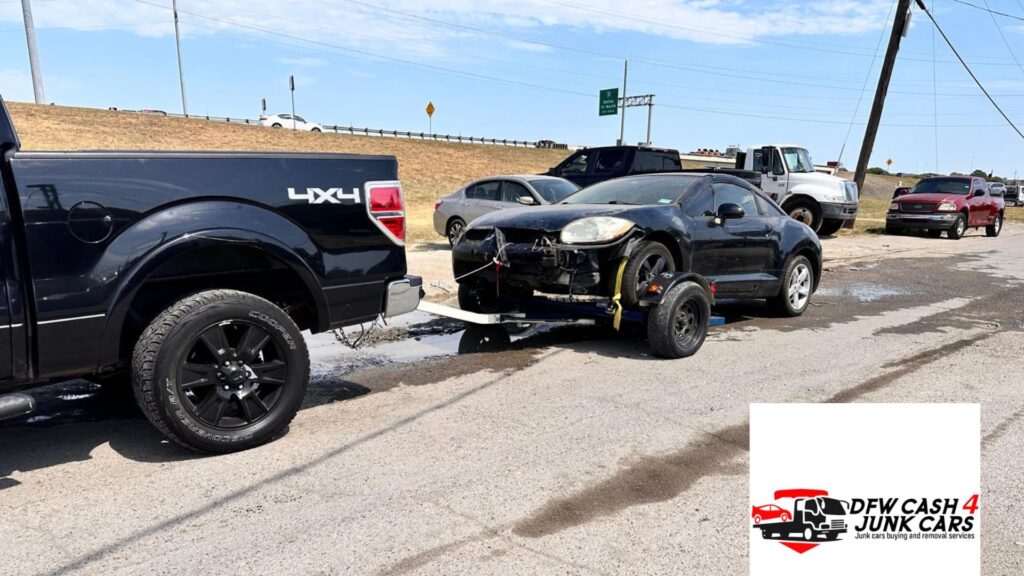 Fast, Friendly, and Fair – Cash for Cars Dallas Style
Why waste time with classifieds or haggle with dealerships? As the leading car buyers near you, we've perfected our cash for cars service to ensure you get paid without delay. We come to you, evaluate your car, and provide an instant cash offer. It's a no-obligation process that prioritizes your convenience.
Transparent Transactions Every Time
Transparency is the engine of our business. When we say we offer top dollar for your vehicle, we mean it. There are no hidden charges, no last-minute bargaining. The quote we give is the cash you get.
Environmentally Responsible Junk Car Buyers in Dallas
At DFW Cash 4 Junk Cars Buyers and Removal, we care deeply about our planet. We ensure that all vehicles are disposed of in an environmentally friendly way. Salvageable parts are recycled, and harmful fluids are disposed of correctly, making us your eco-conscious choice for junk car removal.
How It Works – Your Easy Road to Cash for Junk Cars in Dallas
Step 1: Get in Touch Give us a call or fill out our online form. Just provide a few details about your vehicle, and we'll get back to you with a fair cash offer. We believe in making it easy for you to sell your car.
Step 2: Schedule a Pick-Up Once you accept our cash offer, we'll arrange a pick-up time that works with your schedule. Our professional team will arrive on time, ready to complete the transaction.
Step 3: Get Paid on the Spot We hand over cash for your car at the time of pick-up. There's no waiting for checks to clear or complicated paperwork. It's that simple!
Why Choose DFW Cash 4 Junk Cars Buyers and Removal?
Customer Service: Customer satisfaction is at the heart of what we do. We go the extra mile to make sure you are happy with our service.
Competitive Offers: We use the latest market data to ensure our cash offers are among the best in Dallas.
Convenience: Our 'buy and sell car near me' service means we are always just a quick phone call away. We come to you, making the process as convenient as possible.
Experience: With years of experience in the industry, we know how to handle your car sale professionally and efficiently.
Your Local Car Buyers Near Me in Dallas
Searching for "car buyers near me" can yield many results, but none match the commitment of DFW Cash 4 Junk Cars Buyers and Removal. We are rooted in the Dallas community and take pride in offering services that our neighbors trust and appreciate.
A Green Choice for Your Wallet and the World
When you choose us, you're not just getting cash for your junk car; you're also making a green choice. We are dedicated to sustainable practices, ensuring that your old vehicle is recycled and reused to the maximum extent possible.
Your Vehicle's End is a New Beginning
Regardless of the condition of your car, whether it's wrecked, broken down, or just outdated, your vehicle's end is a chance for a new beginning. Parts that can be salvaged will find new life, and materials that can be recycled will go back into creating new products.
FAQs for Cash for Junk Cars in Dallas
Q: What types of vehicles do you buy? A: We buy all types of vehicles, regardless of make, model, or condition. If it's a car that you no longer want, we'll offer you cash for it.
Q: How quickly can I get cash for my car? A: We can often provide same-day service. Call us in the morning, and there's a good chance you'll have cash by the afternoon.
Q: Do I need a title to sell my junk car? A: Yes, a clear title is usually required. However, if you have specific circumstances, reach out to us, and we'll do our best to work with you.
Ready to Convert Your Junk Car into Cash?
Don't let that old car take up space and become an eyesore. Turn it into cash with the help of DFW Cash 4 Junk Cars Buyers and Removal. With our quick, eco-friendly, and customer-focused approach, there's no better way to clear up space and pad your wallet. Contact us today and cruise down the fast lane to selling your junk car in Dallas!
Call to Action: Ready to get the best cash offer for your junk car in Dallas? Visit DFW Cash 4 Junk Cars Buyers and Removal or call us to start the easiest car selling journey you'll ever experience.